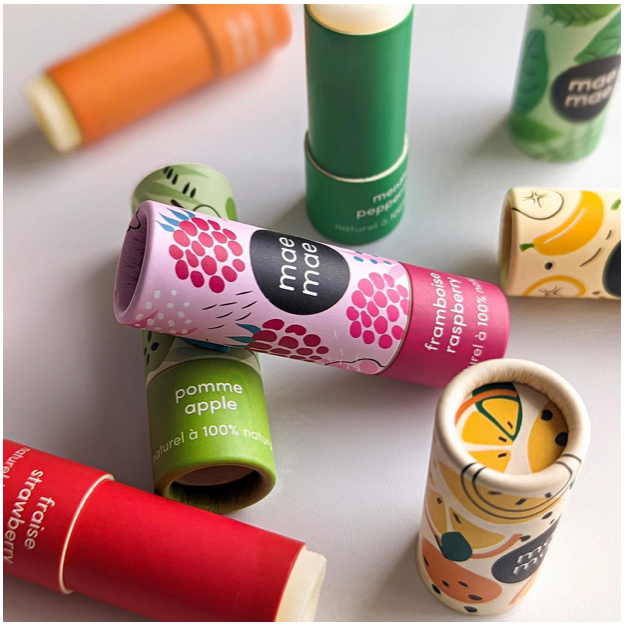 I remember reading this quote years ago:
 "When lipstick sales go up, people don't want to buy dresses," Leonard Lauder, then-chairman of Estée Lauder EL 1.75%increase; green up pointing triangle who is widely credited for coming up with the so-called "lipstick index," told The Wall Street Journal in 2001.
A lipstick, or lip gloss has always been something I can add to my shopping list without feeling like I broke the bank. No guilt was involved as I was doing the groceries. A fun and meaningful treat to myself.  
However, I didn't know that ONE BILLION plastic lip balm tubes end up in landfills each year. 
Needing my special treat, Nancy and I have searched for the perfect, well-priced Lip Balm, made in Canada and we discovered Mae Mae. 
MaeMae is a brand we started carrying before the holidays, and it's really quite amazing to see it's success. Different from more commercial brands, it is organic and bases it's scents in fruits. 
Their awesome lip balms are bound to be your new go-to for protection and hydration. Your kissable pout will never be so smartly taken care of!
We carry a wide range of their fun fruity scents, just in time to cheer you up with their aromatherapy. 
They've also just launched their Face Serums - I know right - things just keep looking up!
The Perfect serums for healthy, happy skin
These new nourishing and repairing serums, harness all the power of different fruits so you can now reap the benefits of nature in a single bottle.
In-store or online, discover these great new products from MaeMae, made in Canada, and more fantastic local products available at M&N Apothecary.
Enjoy!
Comments (0)