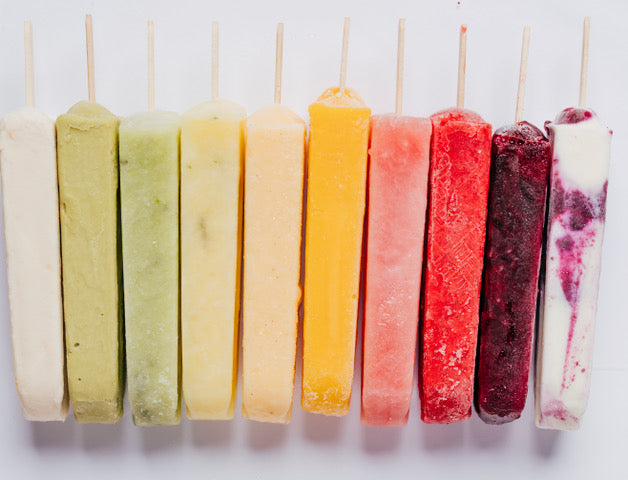 Staying cool this summer with Pop Gourmet Popsicles! 
When I first went to Julia's shop in Hudson, I couldn't believe my eyes. 
She captured my childhood memories of warm summer days, the smell of sunscreen and the wonderful memories of cold popsicles after a great day at the lake. 
Julia, is the owner  and founder of Pop Gourmet Popsicles . It's possible you've met Julia at her shop, or a farmer's market. 
Her gourmet popsicles are made in small batches, with fresh fruits and much love. 
Pop Gourmet Popsicles come in a wide range of flavors from, Lavender Lemonade, Orange Vanilla Cream, Cucumber Mint, Avocado Lime to Strawberry Lemonade. Incredible twists on our favorite flavors. 
We had the opportunity to meet Julia, and ask her a few questions about her wonderful business: 
MT: Hello - thank you for choosing M&N Apothecary as a partner, Nancy and I are really proud to be carrying your popsicles in store. 
We'd love to learn more about how you became a Gourmet Popsicle Maker. 
Julia: We've been making artisanal pops for 10 years now!
Along the way we've learned that we do not want to become increasingly industrialized.  We do NOT wish to be in COSTCO. We are not looking for Dragon's Den either- though we are open to licensing agreements to recreate the boutique experience elsewhere.  
MT: We get that, and also understand the struggle for small businesses like ours.
How do you keep your business running and remain inspired by these incredible popsicles? 
Julia: We work incredibly hard to make the yummiest pops you'll ever taste… but secretly… we do it because it's really really fun. 
MT: Share with us what "Fun" looks like? Because we have fun every time we try a popsicle of yours - they really do spread joy!
Julia:  It's fun to sniff fruit, or watch it ripen to the perfect moment.
Fun to pull out big pots, and cut mountains of golden mango. It's incredibly satisfying to lift boxes and boxes of product into a delivery van, or arrive at an event. It's massively fun to get to know people and share their stories. It's fun to see people's eyes light up when they taste something they love.
MT: What's your favourite part, because honestly, you make it seem so easy, and we know how much hard work goes into building a brand and great product...
Julia: The joy of the circuit: mouth, brain, smile. The pleasure, the trust. 
Thank you Julia for trusting us - thank you for joining our community and trusting us with your brand and delicious gourmet Popsicles 
Comments (0)