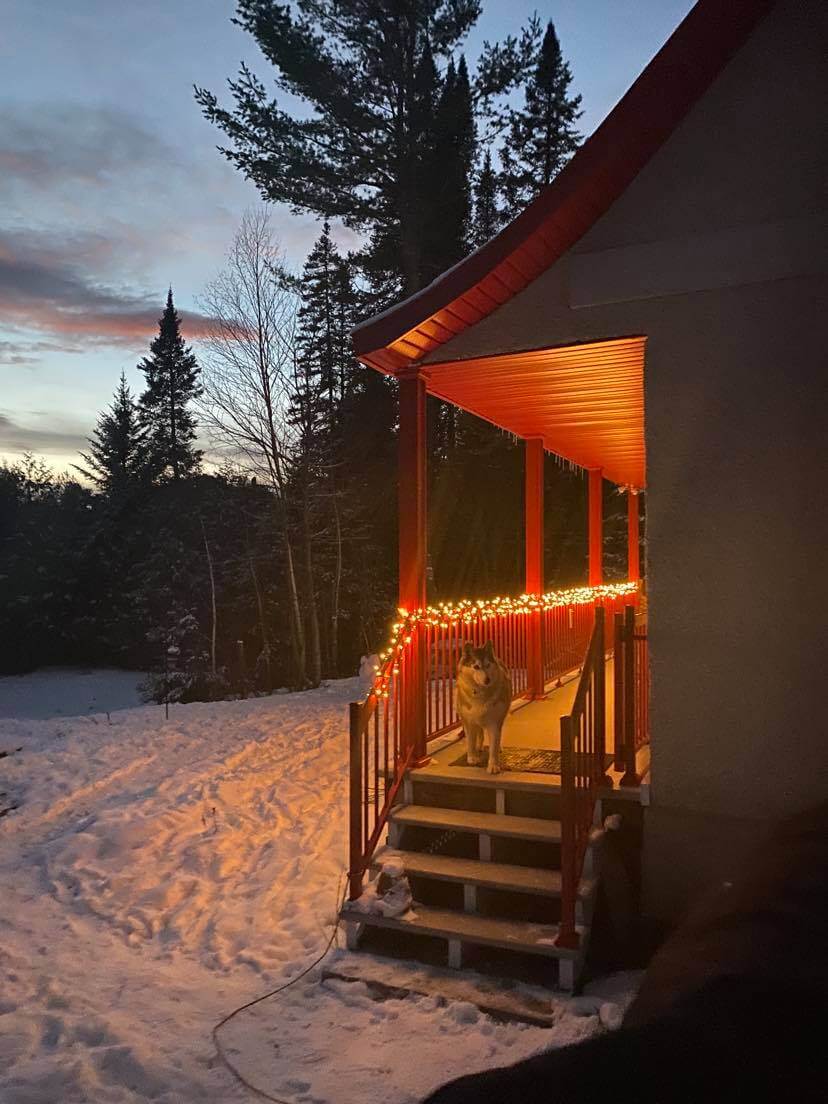 Leaving the city felt like the right move as lockdowns came in effect in 2020.  My lethargy towards my career of 30 years and the contradictory overhang that it might disappear, had me looking around for opportunities to make wise decisions for my lifestyle and my bank account. I have always loved Vermont and had become used to what I describe in my soul as the country life. There was no doubt in my mind that this is where I would one day end up. Unfortunately, as Covid would have it, our borders sealed up, and I wanted to stay close to my adult children who are both living in Ontario.
So, I ventured to the Laurentians – packed up our posh apartment in Montreal and set out for my new adventure buying my adorable - albeit small cottage in the woods (now called The Riverside Cottage) for what would be an adventurous year of self discovery, beauty, solitude and my first real winter.
Guests: Please bring tools and hopefully you are handy – painting is a must, 'real' (!) knowledge of plumbing and electrical is a bonus. I will supply alcohol (lots) & food, and we toss a coin for sleeping arrangements: choice of couch or beds. Do not forget your bathing suits!
Septic tanks 101: We quickly learned that one sheet is enough. A cardinal rule is that nothing goes down the toilet and that it needs to be pumped… still not clear on the leach field – and frankly not in the mood!
I have now become that hostess who says to guests: "oh don't forget, nothing in the toilet… well yes of course, your business... but nothing else!" Nothing is sacred…
Mowing the Lawn: One day I will be able to afford a small truck which you sit on and drive to trim the grass, while holding a beverage in full relax mode. For now, I rely on my brawn – and lots of sweat... and consistently swear at myself questioning the 3-acre purchase and thankful that only 1 acre and ½ need mowing.
Fauna: Birds, hares, bees, flying insects of all kinds… Who knew there was a whole month of a skin eating fly called a black fly? I run from my car in late May to June as if avoiding a hailstorm which would wet my straightened freshly done hair. I am convinced they and mosquitoes high five each other as one leaves and the other appears – like a relay race. I've also become obsessed with bird feeders, I know, right?! I am too young… but the birds are just unbelievably beautiful. Of course, every once in a while one hits the window, and drops dead. I've gotten past being grossed out and getting the shovel as if I'm a pro.
Snowstorms and in humane temperatures: Winter was really the true test for me, and I feel like I should have a bumper sticker that says: Made it through the Laurentians winter. And if you don't know what that means: you need an initiation!  PS. for my neighbors who say it was a mild one, let's keep that to ourselves.
Buying Local: I became obsessed with local production - of everything. Like me, many folks up here have Side Hustles, and I quickly realized that I wanted to share this with the world. In zoom calls with friends and family from around the world, I began to realize we were experiencing the same changes. Questioning old habits and making sure we were making smart choices for our personal situations. Most of the blogs will speak to these products, choices and lifestyles. Love Local Products comes from our desire to speak to and tell as many stories as we can. 
I am not sure what the next year will bring. I am thankful for this chance, having worked  hard to see Love Local Products come to fruition. 
Comments (0)