Hachette
How to Clean Everything hardcover by Ann Russell
As seen on TikTok!
From everyone's favourite online cleaning expert and 'TikTok Auntie', this is the only cleaning book that you will ever need.
How to Clean Everything overflows with ultra-helpful hacks, don'ts, and do's. Enjoy laundering to house-wide caution, and tidy one space at a time! Ann's sensibile, comforting techniques fit any situation - no matter the challenge.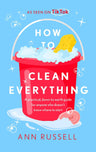 How to Clean Everything hardcover by Ann Russell
Herschel, Elmer Beanie
The Elmer beanie is a Herschel Supply signature style.
Green Mini Matches
She may be little, but she still packs the punch of the original. Nothing was left out....still both beautiful and functional.