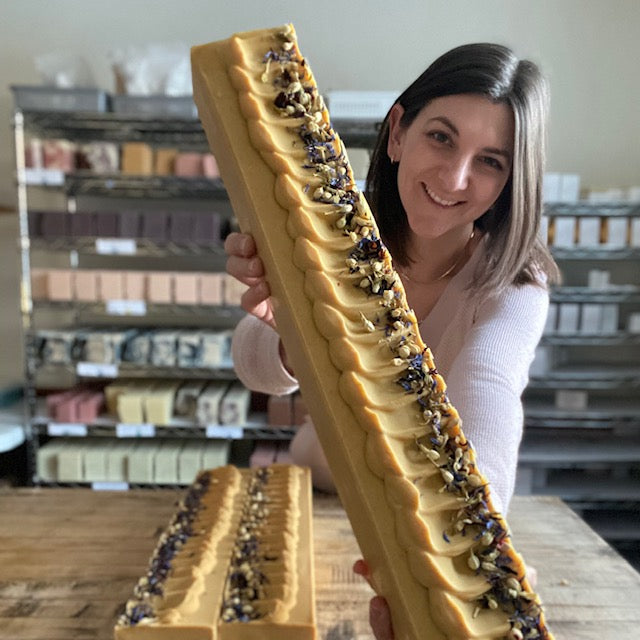 M

eet Allison, mother of 2 and Founder of the Hudson Soap Co. 

I'm always amazed when I meet founders who find a white space in the beauty industry, then create a product that not only answers their needs but also the needs of others. 

When I first tried

Hudson Soap Co

, I actually fell in love with their

oils

. I was with a good friend who through 6 degrees of separation knew Allison and her brand. She had brought Allison's soap as a housewarming gift, and I was hooked!
MT: Allison, thank you for your time. We met at an outdoor event held in Hudson  and I was introduced to yet another great product of yours, the Shower Steamers. How are you inspired to create the scents and products you carry?

AY: I like to think about how and why someone would want to use my products, what they would enjoy, and how I can help someone find a moment to relax or take time for themselves. I also love the process of experimenting and working with new techniques and ingredients.

MT: You're a mom of 2 children, how challenging was it for you during Covid, to run your business as well as your home?

AY: Honestly, it's all a blur...lol my girls were fairly young so home-learning wasn't really necessary for us. Luckily we have a small hobby farm so they spent time outside playing and taking care of our hens. Our mornings were spent with all attention on them and the afternoons and evening were studio time for me. We managed to find a balance but it was exhausting.

MT: Many of our readers either have their own businesses or work for others or like us, do both.  I get asked on many occasions, what is the key to finding a balance? Do you have time for dinner with friends?

AY: Oh boy, not sure I'm the best person to offer this advice... I struggle a lot with this, I have a very busy life, a full-time handcrafted business, part-time work in accounting for a local business, and a full-time mother and wife, it's a lot, but yes, I will always find time to have dinner with my besties, that time is priceless and so important to my well-being.

MT: Did you learn anything about yourself and how you react to challenging situations during Covid? Does a specific example come to mind?

AY: My business actually really took off during Covid, I had to learn very quickly how to increase my production and manage all aspects of running a small business. One thing I did learn about myself is that I work better under pressure. There's an expression I find fitting - if you need something done give it to a busy person to do it.

MT: Wow can I relate to that last statement! I'm very similar in that way. Looking ahead towards the holidays, are there any new family values from the past two years which you will keep?

AY: My family knows the Holidays are the busiest time of the year for my business, the months and weeks leading up are just craziness but once it winds down, we all take some much need time off to relax and reconnect, I'm already looking forward to it.

MT: Are there best practices with regard to your brand that you have learned and will expand on as we move into 2023?

AY: I take great pride in crafting my goods with high-quality, natural ingredients. That's a promise I made to myself and my customers when I launched Hudson Soap. I want to give people a healthier and safer option at an affordable price so they can be confident in my products. I have so many exciting things coming in 2023. I can't wait to share them with everyone!

MT: Thank you for your time Allison, we are so proud to be carrying your products at M&N Apothecary. Welcome to our community!

AY: Thank you so much for highlighting my business, I'm absolutely thrilled to have a great selection of Hudson Soap Co. in your beautiful shop.
It's our pleasure to walk you all through these beautiful products online & in-store.  If you'd like to learn more about Allison and her products, here is the link to her

Shop

.
Comments (0)