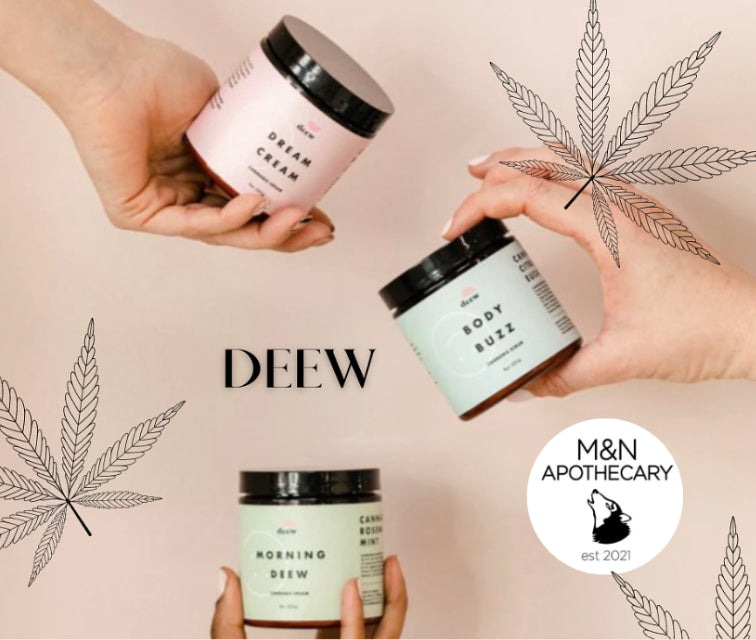 Why not?
Since we first opened the shop and our online boutique, we have been obsessed with cannabis based products. 
We introduced Deew (weed spelled backwards) to our customers, because we really love it.
 This product which is made in Canada, is vegan and made in small batches, celebrates the benefits of cannabis without the stigma. 
Their curated collection of cannabis infused beauty products have many benefits. 
Dream Cream, is formulated with relaxing essential oils of lavender, patchouli, and bergamot. It's a  rich body cream which nourishes your skin with essential fatty acids from a blend of organic sativa seed oil, argan oil, and murumuru butter. It's a great before bed moisturizer which really helps you unwind and relax. 
Their Morning Deew Cream, also a rich moisturizer, is a great wake up cream. Each pot is formulated with energizing essential oils; think spearmint, peppermint, and rosemary. This day cream wakes you up with a pleasant tingle as a blend of organic hemp seed oil, argan oil, and murumuru butter deeply  nourishes your skin. 
Body Buzz, energizes your skin and your senses - this body scrub,  is formulated with pumice particles to buff away rough patches, it invigorates your skin as it nourishes with a conditioning blend of hemp seed oil and shea butter. It's herbal, citrus scent - really invigorates your senses. 
last but not least is Deew Drops, a lightweight and fast-absorbing, facial oil which uses organic sativa seed oil to nourish your complexion while imparting a dewy glow.
We also selected some great cook books, so we and our customers can learn more about the great benefits of cannabis based products. 
The stigma, may still exist, even though cannabis is now legal in most states and in Canada. Learn more, and find out for yourself all the wonderful benefits. 
Comments (0)