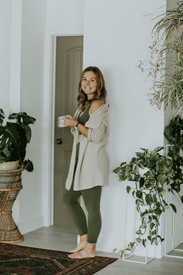 Meet Sam, founder of Moment Blends
Sam lovingly refers to herself as Mom & Wifey - this wonderful entrepreneur has focused her talent on creating beautiful blends focused on helping us focus on what matters. 
Moment is a small batch, handcrafted herbal tea company made in Canada.
Sam believes that life is made up of moments.
The good, the bad and the ugly. Sometimes we can get so caught up in the hustle of day to day life, we forget to take a moment for ourselves.
Sometimes, easier said than done!
Sam who at a time in her own life, needed to slowdown,  created Moment, because even with the best of intentions, we sometimes can't just slowdown. 
Blended in small batches in Ontario, Sam brings us these wonderful blends, to savor special moments - when we have the chance!