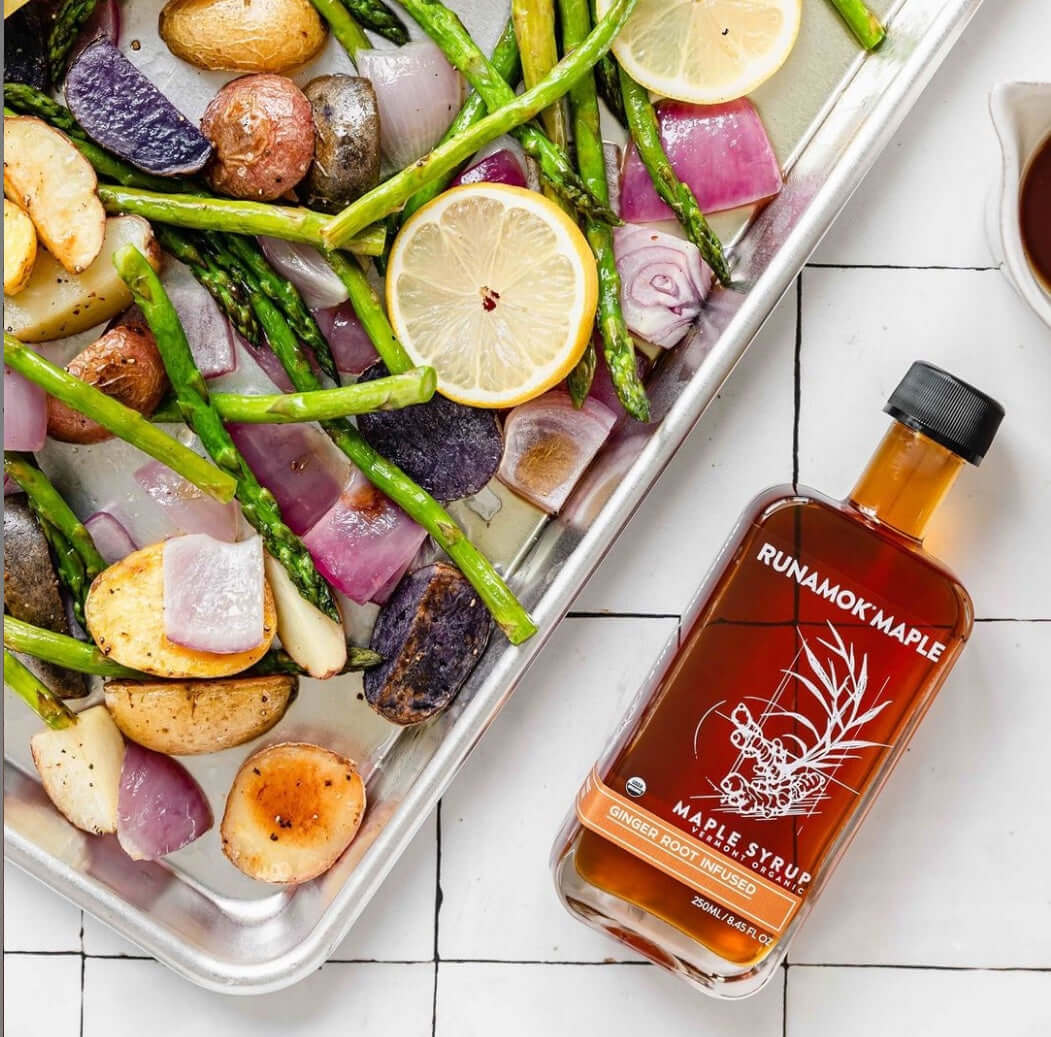 Maple Syrup in some countries is considered liquid gold.
Most of us know a little bit about maple syrup.Where it comes from, how it ends up in a can or jar. We use it traditionally on waffles or pancakes. Some of us have started more recently using it for cooking, and salad dressings. 
In Fairfax  Vermont, Runamok creates this liquid gold, with a few twists. Runamok is a premium organic Maple Syrup founded by Eric and Laura Sorkin. 
Both Laura and Eric had lived in New York prior to their return to Vermont. Laura, a culinary chef, had a passion for herbs and mixing of traditional and non traditional spices. This led this duo to start experimenting with their maple syrup. Today, Runamok Maple produces pure, infused, smoked and barrel-aged maple syrup along with a line of maple-based cocktail syrups and cocktail bitters. Although, like all of us, they love pure maple syrup they discovered that their passion for spices and infusions would unlock limitless possibilities for their syrups. They  are constantly working on new recipes to highlight the unique flavours in their syrups. It is truly a tasty journey. 
At Runamok, sustainability is top of mind and aligned with Love Local Products so is their mandate to ensure they are reducing their carbon footprint.
Thinking globally is top of mind as a result, this team made a decision to use solar power across all their production facilities and in the sugarbush. The habitat they preserve will make for excellent homes for migratory birds, as well as indigenous wildlife. Their compostable cups cut down on plastic in landfills. The post-infused ingredients and barrels are passed along to other food and beverage producers to help reduce food waste. Their working landscape of sugar bushes provides not only a fresh new take on liquid gold, but also acts as a natural air filter that is tipping the carbon ratio in the right direction. 
"We aim to be not only good environmental stewards of our land but also for the planet" Eric & Laura Sorkin
Communities learning from Communities - Enjoy this new liquid gold, we are proud to have Runamok as a member of our community and stand with them on Social Responsibility
To 'run amok', which is sometimes spelled 'run amuck', is to behave in a wild or unruly manner.
http://www.theheartofnewengland.com/lifeinnewengland/Essays/liquid-gold-maple-syrup.html
https://www.cbc.ca/news/canada/manitoba/weekend-morning-show-francobeat-maple-syrup-1.5913736
Comments (0)