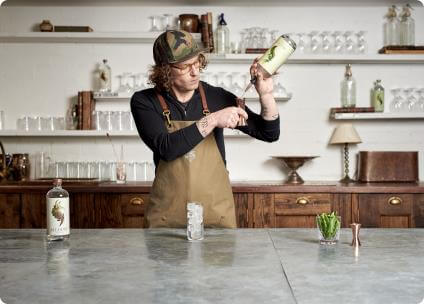 Lately, I've been looking for alternatives. Everyone has a different journey. It's a struggle to find non-alcoholic alternatives. 
In comes Seedlip : 
                                 Meet Ben Branson, founder of Seedlip 
Over 300 years ago, it was common for physicians to distill herbal remedies using copper stills, harnessing the power of nature & alchemy to solve medical maladies.
In 1651, one such physician, John French, published The Art of Distillation, documenting these non-alcoholic recipes.
At that same time, a family in Lincolnshire had started farming, hand-sowing seeds using baskets called 'seedlips'.
Centuries later, Ben Branson stumbled upon John French's recipes. Ever the tinkerer, he was inspired to purchase a small copper still and experiment with distilling herbs grown in his garden at home.
Inspired by his own desire to have modern non-alcoholic drinks which par with his meals, and are appealing, Ben created Seedlip.
I have been enjoying many alternatives, and LOVE this one so much.  We will be carrying these award winning non-alcoholic spirits in our Apothecary and shipping from our online shop M&NApothecary beginning March 1st 2022.
In the meantime, enjoy this great read: 
Seed Lip Cocktails 100 Delicious Nonalcoholic Recipes from Seedlip and The World's Best Bars 
Enjoy the Journey!
Marg
Comments (0)